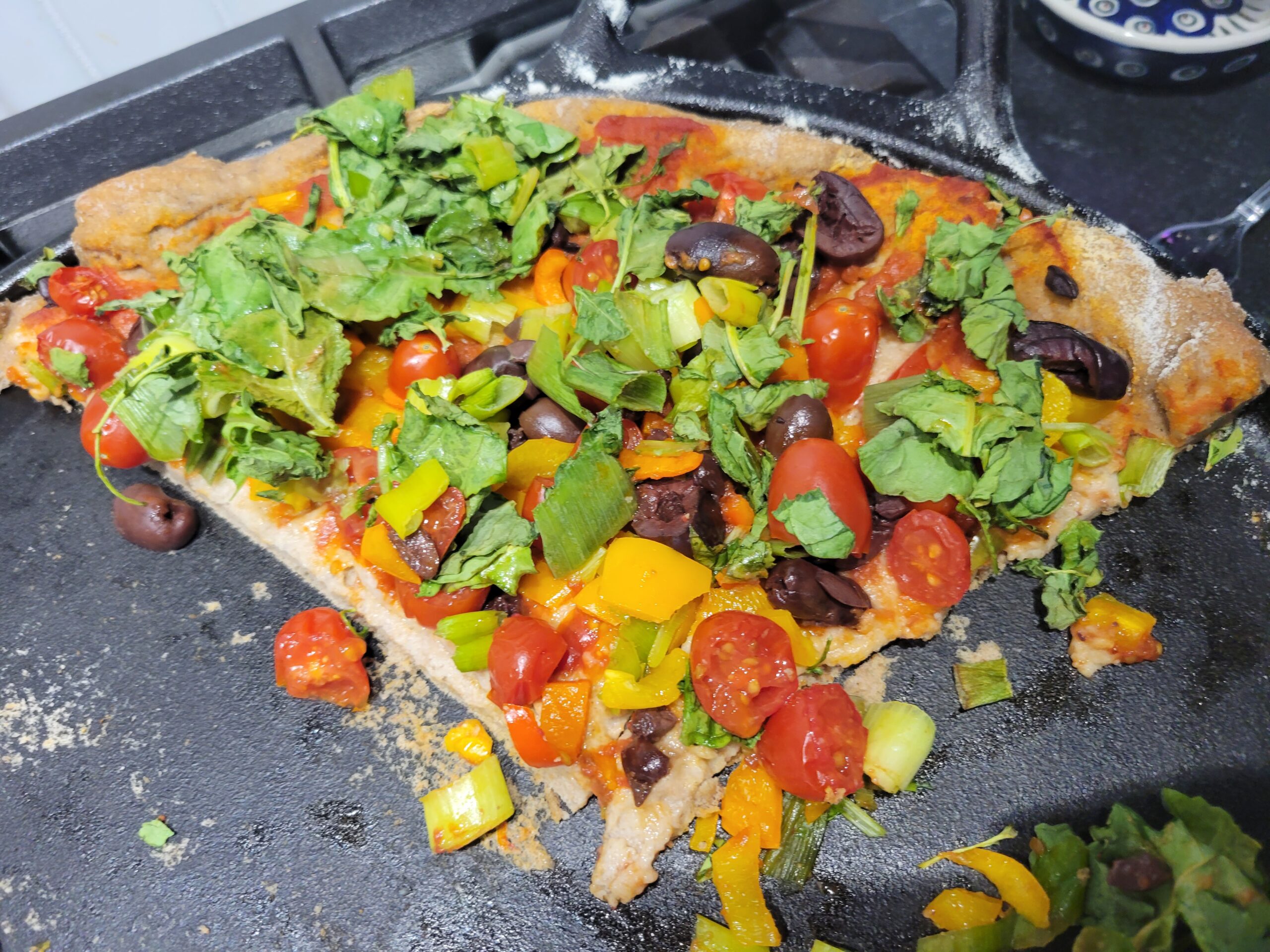 Gluten Free Pizza Crust (makes 4 pizzas)
August 17, 2023
This is the same dough as Gluten-Free Multi-Grain bread, just worked differently to make pizza crusts.
Place dry ingredients in a stainless-steel mixing bowl:
½ cup psyllium husk powder
2 tablespoons instant yeast
2 tablespoons turbinado sugar
4 teaspoons baking powder
½ teaspoon salt
2 teaspoon xanthan gum
1 cup millet flour
1 cup teff flour
1 cup sorghum flour
1 cup quinoa flour
Mix lightly on low speed.
Add wet ingredients to the bowl:
4 eggs
½ cup sunflower oil
3 ½ cups warm water
Mix until blended, but it will be sticky and not smooth.
Oil four cast iron pizza pans, then sprinkle a few tablespoons of millet flour on each.
Have ½ cup millet flour handy for working.
Divide the dough into 4 rough balls and place it in the center of each of your four pans.
Sprinkle a little millet flour on top of each dough ball.
One at a time, place a sheet of parchment paper (the size of your pan) on top of the dough ball. Use a rolling pin to roll the dough ball out into a circle, rolling from the center out toward the edges of the pan. As the dough ball rolls out, you may need to lift the parchment paper and sprinkle a little more millet flour to keep the dough workable. As you roll, create a small thicker crust edge around the edge of the pan.
Repeat for the remaining 3 crusts.
Preheat oven to 350 degrees (convection preferred if possible).
Cover with a clean cloth, place in a warm place away from drafts, let rise for 20 minutes.
Add your desired toppings.
Bake 25 minutes.
Remove from oven, let sit in a warm place away from drafts for 5 minutes.