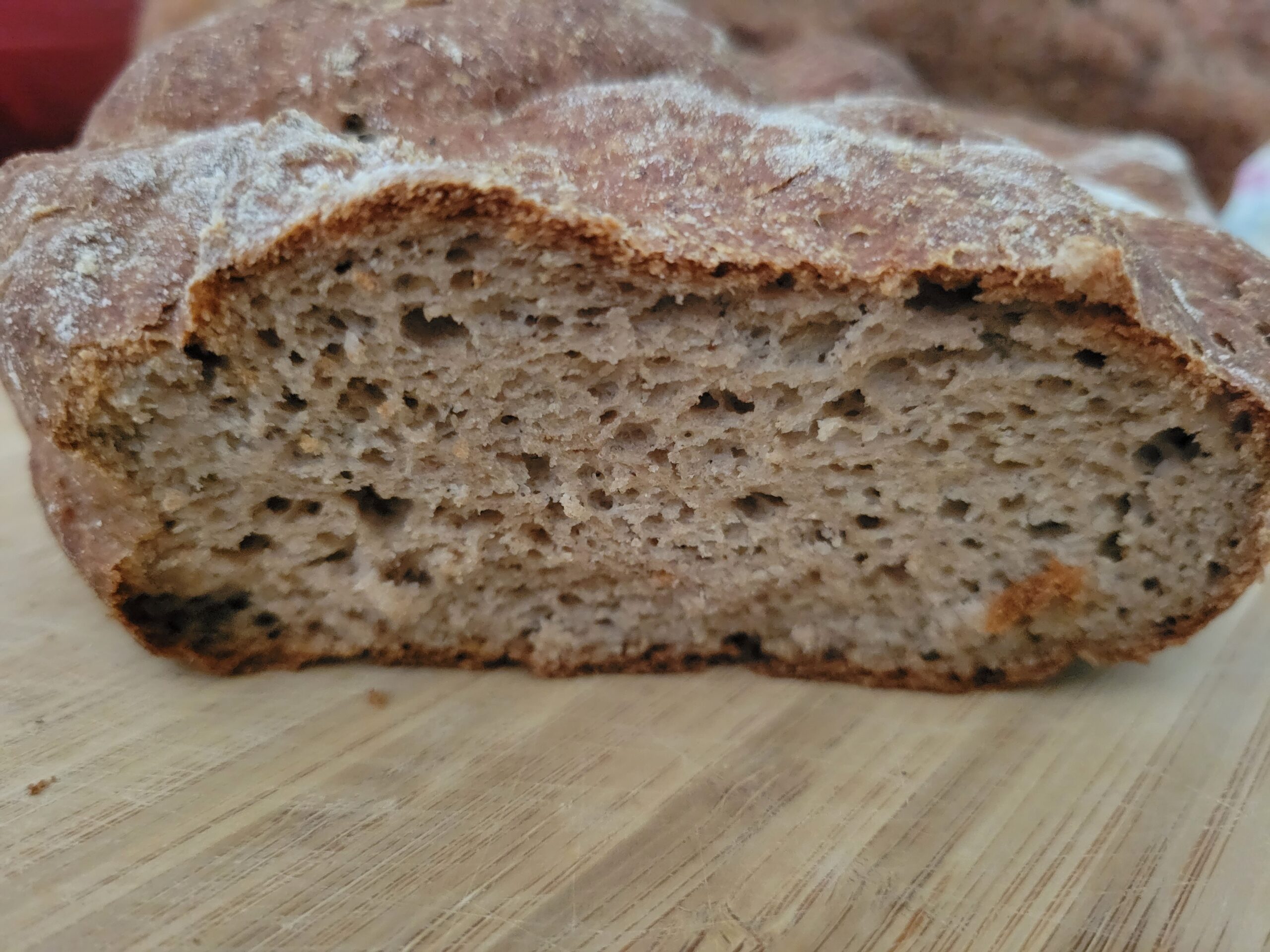 Gluten Free Multi Grain Bread (Makes 2 loaves) August 17, 2023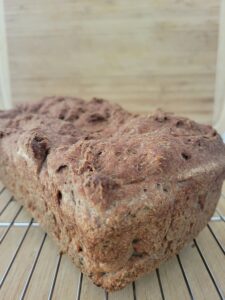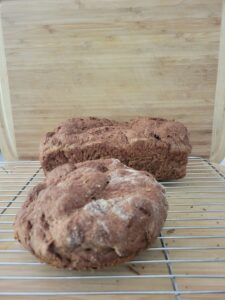 Gluten-free bread is HARD! I began baking bread with my grandmother in childhood. I've been experimenting with gluten-free bread for almost 5 years. Most gluten-free cookbooks and recipe bloggers use dairy (butter, cream) or nut-based products (almond flour, coconut oil) to get the bread to gel and hold. Other gluten-free bakers use a variety of refined sugars and starches (potato starch, tapioca starch) to get a light fluffy texture. My family's dietary allergies and requirements put those ingredients off limits, and so I've been on a continual journey to figure out a whole-grain, dairy-free, nut-free gluten-free bread that has a nice taste, a nice feel in the mouth, and which can actually be sliced for sandwiches and toast. I also wanted to use gluten-free flours other than oats and rice, since they are already common grains in our gluten-free diet, and I wanted some variety. After almost 20 different trials, I found one we really like. Here it is, for your gluten-free, dairy-free, nut-free eating pleasure!
Place dry ingredients in a stainless-steel mixing bowl:
½ cup psyllium husk powder
2 tablespoons instant yeast
2 tablespoons turbinado sugar
4 teaspoons baking powder
½ teaspoon salt
2 teaspoon xanthan gum
1 cup millet flour
1 cup teff flour
1 cup sorghum flour
1 cup quinoa flour
Mix lightly on low speed.
Add wet ingredients to the bowl:
4 eggs
½ cup sunflower oil
3 ½ cups warm water
Mix until blended, but it will be sticky and not smooth.
Oil two cast iron bread pans.
Divide the dough into your two pans, using a silicone spatula to spread it evenly and smooth out the tops.
Cover with a clean cloth, place in a warm place away from drafts, let rise for 45 minutes.
Preheat oven to 350 degrees (convection preferred if possible).
Bake 45 minutes (it should sound hollow when you tap the top of the loaf with a wooden spoon).
Remove from oven, let sit in a warm place away from drafts for 20 minutes.
Use a butter knife to carefully cut away from the 4 sides of the pan, turn the pan over on a clean cutting board, tap the bottom, and the bread loaf should come out.
Place upright on the cutting board and let cool completely.
Slice it with a serrated bread knife.
ALLERGY STATEMENT:
Gluten Free, Milk/Dairy Free, Tree Nut Free, Fish Free, Crustacean Shellfish Free, Peanut Free, Soy Free, and Sesame Free